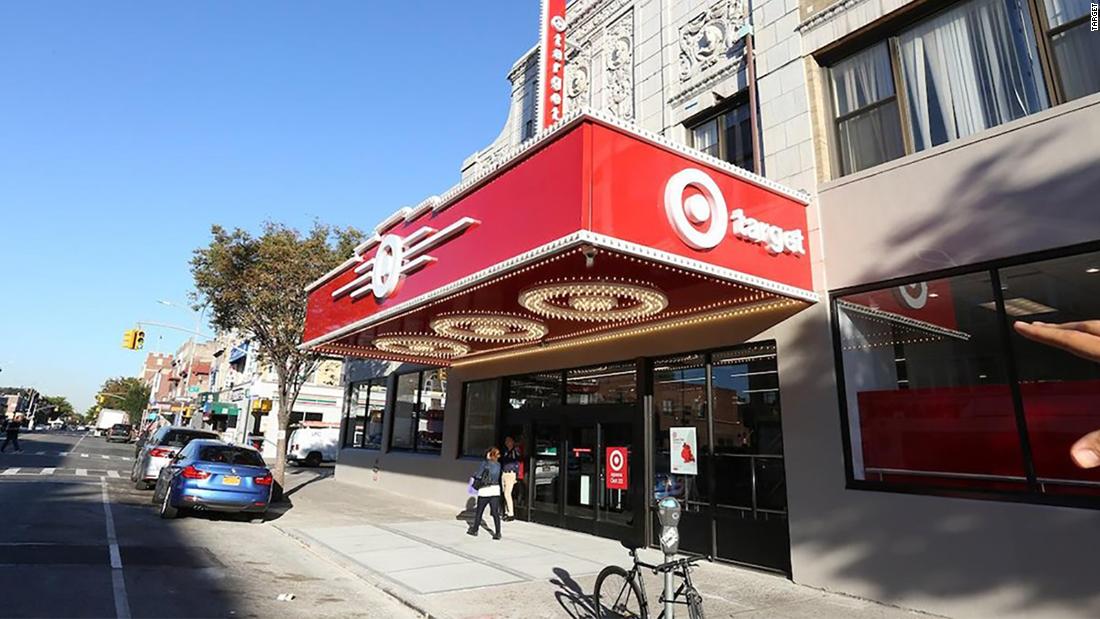 Target said this week that it will open around 30 slimmed-down stores this year in cities like Los Angeles, New York and Washington, D.C. and on college campuses. These stores, which average about 40,000 square feet, are one-third of the size of Target's traditional sprawling stores.
The plan follows several other department stores that are opening smaller stores or downsizing existing ones to bring in urban shoppers and save money as online shopping takes over in the suburbs.
Small stores on city blocks and in college towns are a key part of Target's growth strategy because they help the company draw shoppers that would have been out of reach in the past. For example, Target ( TGT ) opened a 60,000 square-foot store last year in South Burlington, Vermont, its first in the state.
"These stores help us enter new neighborhoods, where a full-size store would fit, "CEO Brian Cornell told analysts during an earnings presentation Wednesday.
Winning new urban shoppers and college students with conveniently-located stores will be important for Target as slows down building full-size stores. Target will open only two of its traditional stores in 201
9. Rival Walmart ( WMT ) is also slowing down new store openings. It plans to open fewer than 15 supercenters this year and will invest in remodeling stores and online growth instead.
In 2017 and 2018, it opened around 30 of them a year. Target has 87 small stores today and will open its 88th week in San Diego. The company plans to open around 30 new ones a year for the next few years.
Target stocks each store with different merchandise. Stores near campuses carry school gear and dorm room essentials, while others in New York offer more luggage for tourists.
Operating these small-format stores is difficult. Target's teams had to use smaller trucks to make deliveries on city blocks and figure out which merchandise to put on shelves. Target has stepped up its supply chain investments to meet the additional demand at small stores.
"Running a small store is not as simple as cutting down your assortment for less shelf space," said Tory Gundelach, analyst at Kantar Consulting. Target opened a small store in Bensonhurst, Brooklyn, in 2017. Target currently has 87 small stores around the country. " data-src-mini="//cdn.cnn.com/cnnnext/dam/assets/190308160954-target-small-stores-small-169.jpg" data-src-xsmall="//cdn.cnn.com/cnnnext/dam/assets/190308160954-target-small-stores-medium-plus-169.jpg" data-src-small="http://cdn.cnn.com/cnnnext/dam/assets/190308160954-target-small-stores-large-169.jpg" data-src-medium="//cdn.cnn.com/cnnnext/dam/assets/190308160954-target-small-stores-exlarge-169.jpg" data-src-large="//cdn.cnn.com/cnnnext/dam/assets/190308160954-target-small-stores-super-169.jpg" data-src-full16x9="//cdn.cnn.com/cnnnext/dam/assets/190308160954-target-small-stores-full-169.jpg" data-src-mini1x1="//cdn.cnn.com/cnnnext/dam/assets/190308160954-target-small-stores-small-11.jpg" data-demand-load="not-loaded" data-eq-pts="mini: 0, xsmall: 221, small: 308, medium: 461, large: 781″ src="data:image/gif;base64,R0lGODlhEAAJAJEAAAAAAP///////wAAACH5BAEAAAIALAAAAAAQAAkAAAIKlI+py+0Po5yUFQA7″/>