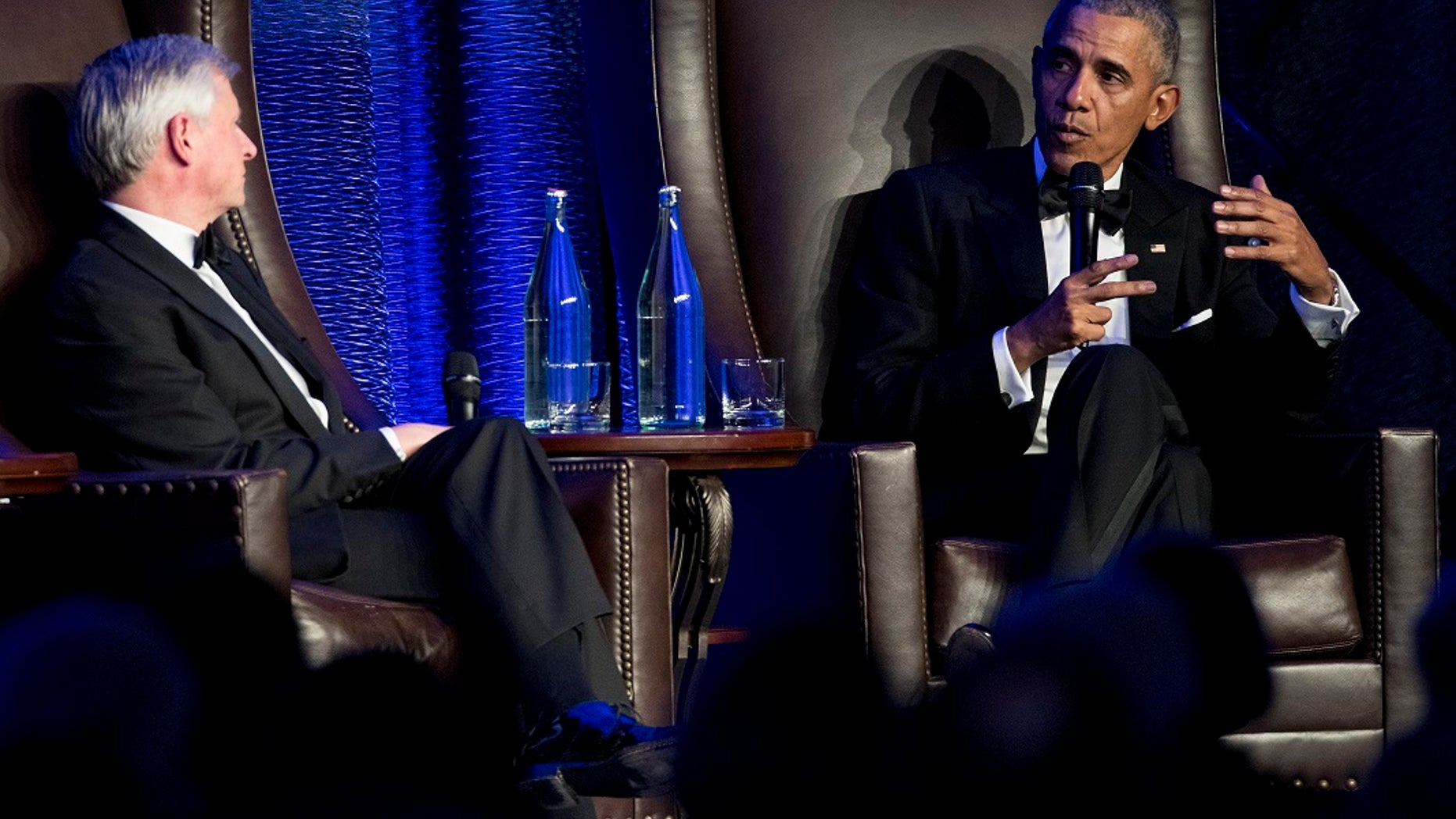 Without mentioning President Trump, former President Barack Obama praised his prosecution on Tuesday during an invitation-only gala in Houston.
Obama's comments came at the end of an hour's long interview with former Secretary of State James A. Baker III during the 25th Anniversary of the Non-Partisan Baker Institute for Public Policy at Rice University, Houston Chronicle reported.
"Not only did I not be accused, nobody in my administration got accused," Obama said to a crowd of more than 1
000. "By the way, it was the only administration in modern history that can be said. In fact, nobody came close to being accused, probably because the people who went with us were there for the right reasons. "
President Historian Jon Meacham, moderating the conversation interview between both men, asked Baker 88 what he was most proud of He serves three presidents of his time.
"I am most proud that I had the privilege of serving two presidents as chief of staff, being secretary of the treasury, state secretary, running five presidential campaigns, and leaving Washington without being accused," Baker replied.
Several years ago, several Trump aides and co-workers have been prosecuted or charged with various crimes. On Monday, Robert Mueller's Special Council announced the last Trump campaign. President Paul Manafort violated his agreement by lying to the FBI and his office.
On one occasion, Meacham Trump compared with the fictional Harry Potter villain Voldemort.
Obama and Baker cove red a wide range of subjects, including redistricting, with Obama called Texas a "champion of gerrymandation" and media development and its impact on partisanship.
Baker, who served under Ronald Reagan and both Bush presidents, said "The center of responsibility in American politics has disappeared."
"If it was Cronkite, Brinkley or what do you have, there was a common set of facts, one baseline around which both parties must respond, "added Obama. "When I'm in place, it's what we see if you're a Fox News viewer, your reality is dramatically different than a New York Times reader."
On foreign policy, Baker raised concerns about the US's standing in the world during Trump's clock.
"US leadership in the world is absolutely necessary," he said. "No other country can do it", and allow America to win the cold war "because we had alliances."
The former president called a stop for what he said was the growing threat of bigotry, FOX reported 26 Houston.
"In these environments, you begin to get another type of policy. You start getting policies based on" That person is not like me, and it must be their fault, "Obama said." And you're getting politics based on a nationalism, it's not pride and land, but hate for someone on the other side of the border. "
Before the crazy, Obama met with former president George HW Bush, Bush's spokesman Jim McGrath.
" The two had a very nice and private visit to the Bush Residence where they resumed what was already a very warm friendship " , he wrote on Twitter.