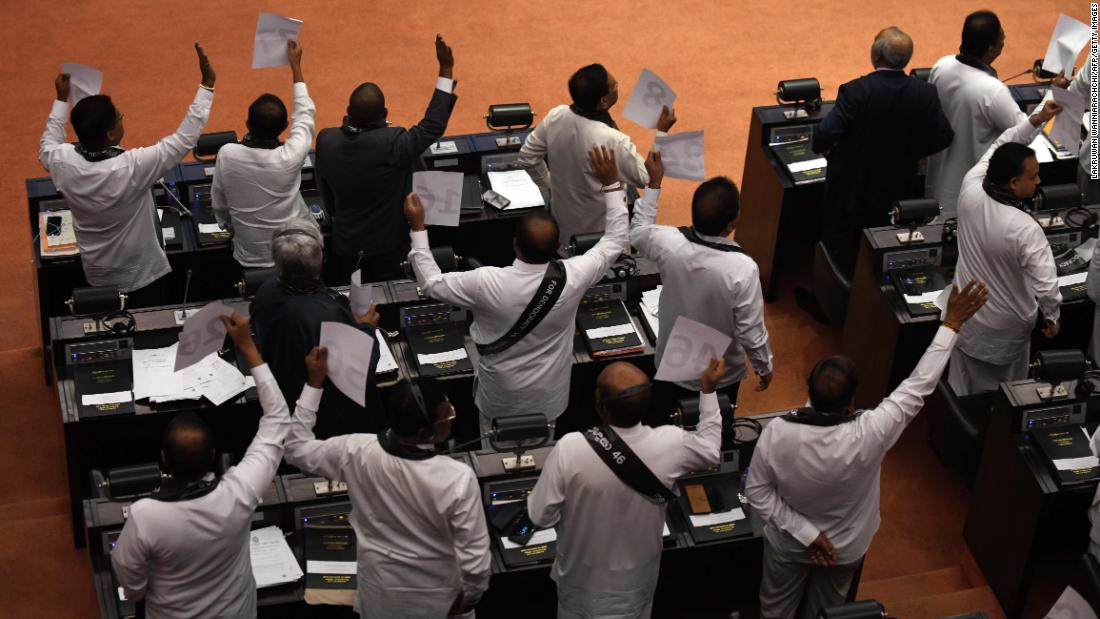 The supporters of Rajapaksa refused to acknowledge the vote as legitimate and killed the country deeper in crisis, as fear grows that the political conflict could lead to greater instability.
The move follows the shock decision last month by President Maithripala Sirisena to secure Ranil Wickremesinghe as prime minister and replace him with controversial former forces president Mahinda Rajapaksa. The message triggered protests and violence that left a death.
Wickremesinghe condemned Sirisena trying to remove him from the office and refused to leave the official prime minister's residence and claims that the president has no power to take such action.
In a move that demonstrated that he potentially softened his hard stance, Sirisena invited his ousted prime minister, Ranil Wickremesinghe, leader of his party and those who heard the conversation Wednesday night.
President Mahinda Samarasinghe refused to comment on the meeting, but told CNN: "The president will act constitutionally and within the framework of the country's legislation."
Passed by voice, not by name
The transfer of trust movement comes as a major blow to Sirisena, indicating that his appointment of Rajapaksa does not have the majority background of Parliament's 225-seat parliament.
Contrary to the usual practice, the proposal was announced Wednesday morning and discussed immediately after.
However, it was the uprising in the Chamber Wednesday, President Karu Jayasuriya was prevented from voting with the name, which is common and instead has to vote.
The resolution, adopted by majority, was moved by left flute Janatha Vimukthi Peramuna (JVP) party leader Anura Kumara Dissanayaka and team maker Vijitha Herath.
United Nations Party of Ousted Prime Minister Wickremesinghe, Tamil National Alliance and smaller Muslim parties opposed all the opposition movement.
Three newly elected prime ministers and one prime minister also went to the opposition bench to support. Both Rajapaksa and his executions predecessor Wickremesinghe were present during the vote.
Colombo Instability
Violence broke out in the capital at the end of October when the masses loyal to the president tried to prevent it from newly deposed agricultural minister Arjuna Ranatunga entered a government building in Colombo.
When the masses grew around Ranatunga, a former Sri Lankan cricket captain, the bodyguard officials opened and killed a person and injured three others.
Ranatunga then claimed that his bodyguards opened fire because the crowd "tried to kill him".
On the bodyguard was arrested and an investigation was underway, police chairman Ruwan Gunasekera confirmed.