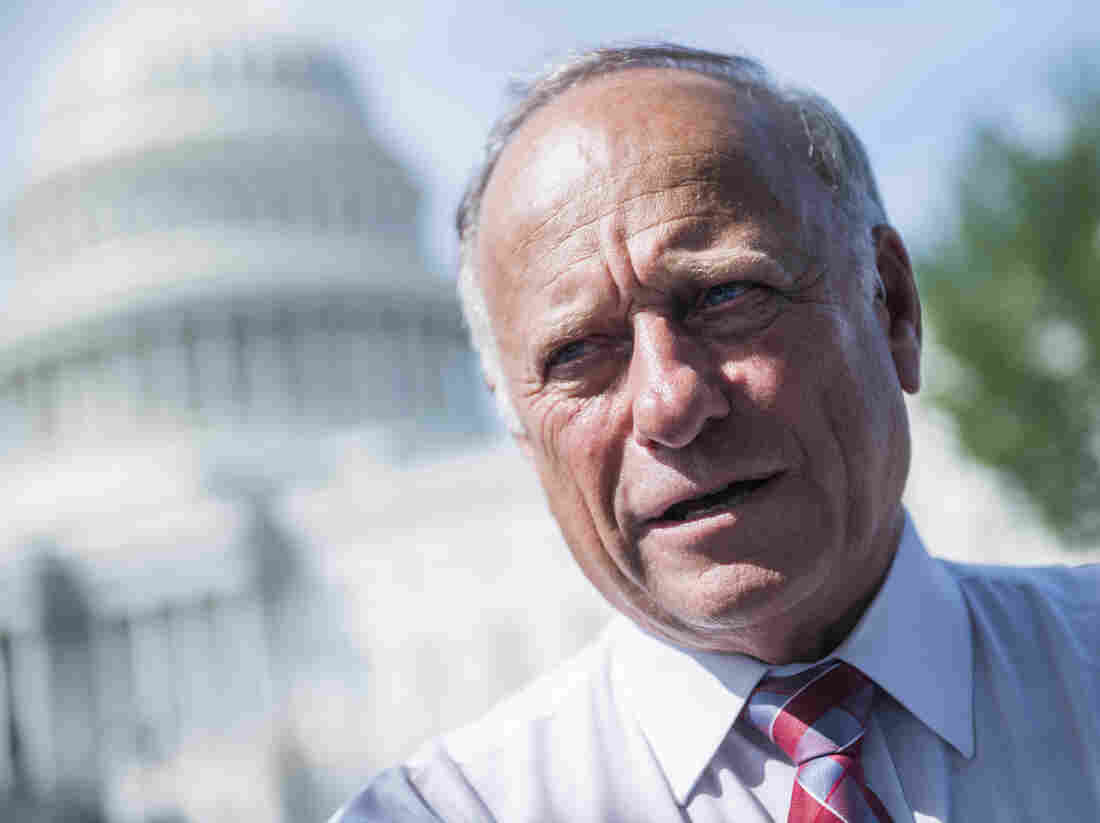 Tom Williams / CQ-Roll Call, Inc.
Rep. Steve King, the Iowa Republic, known for hard positions on immigration and racist comments, challenged a conservative newspaper to release sound to prove that he had compared immigrants to "dirt."
So Weekly Standard did.
The newspaper reported last week that the king, who won the return earlier this month, despite being called for his white nationalists' comments, made the fire comment.
On Friday King tweeted in response that the newspaper had joined the Huffington Post "at the bottom of the lying journalistic chute." He argued that the article's reporter lay: "Just release the entire tape. Left lies are without original sources because they are fake and made accusations," tweeted.
Standard on Saturday published a YouTube video containing the audio to the article. "We are in the story," says editorial director Stephen Hayes.
The sign was detected discovered during a campaign stop on November 5 while the king bothered with followers in a restaurant. King discussed his "patented pheasant noodle soup" containing a straw of homegrown jalapeño paprika. Talking about the peppers he said:
KING: I raised a bunch this year and they did not have enough bites. So I suppose I have to get some dirt from Mexico to grow the next party.

UNIDENTIFIED WOMAN: trust me, it's on my way.

KING: Well, there's a lot of dirt. It comes from the west coast too, and many other places, except. This is the most dirt we have ever seen.

The weekly standard
YouTube

The unidentified woman's comments are obviously about the caravan for American migrants who currently led the United States to seek asylum.
As a conservative journal said (emphasize their), "Iowa has a problem with surface water depletion, but it is hard to imagine that the audience and the king discussed the shipment of land from land or from California." [19659008] The king's staff, Sarah Stevens, told the Washington Post that the king thought the woman referred to the leftist media when she mentioned dirt – not immigrants.
"We quoted representative long-term king with the purpose of giving readers all contexts for their comments," reads an editor's note on the article. "Steve King never mentions the media in his comments. To claim that he referred to the media when he worried that" dirt "coming from Mexico is absurd."
Kings views are not exactly a secret – about immigration, he said on Twitter last year, "we can not restoring our civilization with someone else's children. "
In August, King made an interview with the Austrian Liberation Party – founded by a former Nazi – where he spoke of the apparent decline in Western civilization and claimed immigrants replacing white Europeans.
Some top republicans including Steve Stivers, chairman of the House Republican Campaign Committee, have spaced from the king after Pittsburgh shot in a synagogue that saw 11 killing more attention to the legislator.