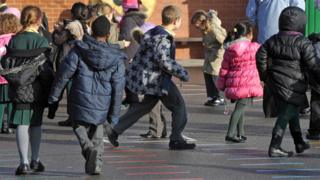 Parents should not expect schools to police children's eating and exercise, or tobacco students. England's Chief Inspector for Education will say later.
Chief Officer Amanda Spielman will argue that the response to the obesity crisis is at home, and that the parents should not "remove responsibility".
Nor can schools be a "panacea" for knife crime or child abuse, she will add in her second annual report. 1
9659003] In February, British medical journal reported that a year-long anti-obesity program with more than 600 West Midlands primary school students did not bring any improvements.
And in July, a Ofsted study of 60 schools found no link between efforts to deal with obesity and the weight of students.
Talk to an audience of education and social workers in central London since then, Spielman will raise concerns that nearly a quarter of the children in England are overweight or overweight when they begin primary school.
This rises to over a third as they move on to high school.
"Schools can and should teach children the importance of healthy food and exercise in line with their basic purpose, their PE lessons will make them breathe," she says.
"But beyond that, schools can not take over the role of healthcare staff – and especially the parents."
Given the growing evidence that children arriving at the reception can not use a toilet, she adds: "It This is difficult for teachers, disturbing other children and has terrible social consequences for the affected children. "
" Complex Things "
Ms Spielman will also claim that by expecting schools to deal with gang-related crime or child abuse risk society not only distracting them from their core purposes but also
Such complex issues must be handled by those with the right knowledge and expertise that she will argue for.
"Although schools can play a role in educating young people about the risk of knives, they can not be a paradise for this social harm," she says.
"Instead, crime in knives requires all local partners to work together to protect children from harm while the relevant authorities deal with criminal activity."