It had not been "appropriate" to warn the public about a "very scary load" of meningitis when the first time came to medical attention six months ago, "said Northland DHB.
On Tuesday, DHB sent a media release warning the public to be vigilant about a "significant increase" of Group W meningokock disease in the region after three people died. The Ministry of Health also issues a warning to emergency departments and general practitioners about the increasing number of cases.
But in May, clinical microbiologist David Hammer had circulated a letter to DHB staff alert about the "significant increase" in meningococci W ST-1
1 cases across New Zealand.


Northland DHB's state of health, Dr José M Ortega, said that DHB questioned claims that the public should have been warned earlier about the meningokock W strain (MenW).
READ MORE:
* Northland DHB warned of the W meningocock strain in May, but did not tell publicly until November
* Two new jabs possible in the light of the new type of meningococci to worry about
] * * Teenage boy died of meningococcal disease, remembered as "helpful" classmate
* Teenage dies of suspected meningococcal disease after Auckland youth camp
"In May, we had two unrelated adult cases of MenW due to careful monitoring, "Ortega said.
"Without determined information, it was not appropriate to lame society."
The new strain of meningococci presented itself as "some form of infection" and occurred randomly for no apparent reason, he said.
Hammer had increased the awareness among staff because the presentation of meningococcus tends to be more atypical than other strains, he said.
DELIVERY
In October, the 16-year-old Dion Hodder from Group W died meningococcal disease.
"We are still monitoring and monitoring the disease incidence, as well as good public health practice, and we are studying some historical epidemiological data on invasive meningococcal disease, hoping that this will inform future decisions about our response. [19659009]" Public Health Group and Dr. Hammer is in continuous dialogue with the Ministry of this disease and [on Thursday] will participate in the Technical Advisory Group Meeting organized by the Ministry of Home to begin work on reducing meningococcal disease across New Zealand.
"DHB will be run by the ministry forward," says Ortega.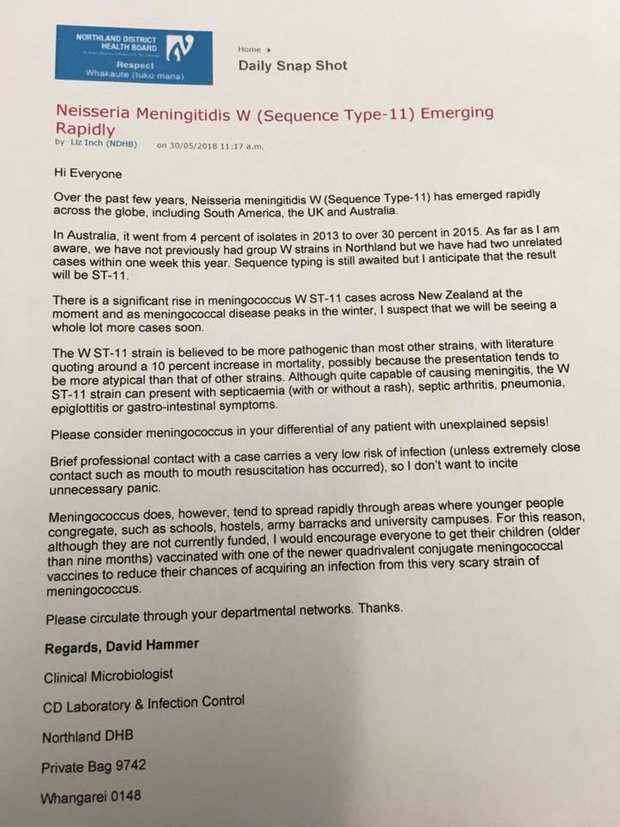 Twenty four cases had already been confirmed this year. Throughout the country, six patients have died of the W strain.
Immunization Advisory Center Research Director and University Lecturer at the University of Auckland, Dr. Helen Petousis-Harris, said the W-strain struck people of all ages and seemed "super virulent".
"The number of cases caused by this tribe has doubled since 2017 from 12 to 24 so far," said Petousis-Harris.
DANICA MACLEAN / STUFF
A letter sent to Northland DHB staff in May warned of a "scary" strain of meningococcal disease – Six months before the public was told (file).
"People who have this tribe are more likely to die."
"For To make this worse, signs and symptoms are a bit different from the usual ones that make the diagnosis more difficult. "
Petousis-Harris said that physicians were urged to be looking for meningococcal disease and administer antibiotics if they suspected it.
" Meningococcal disease is rare but lethal. We have vaccines that protect against the meningococcal groups that circulate in New Zealand, including the new hypervirulent W and groups B and C that cause most cases. "
DELIVERY
Immunization Advisory Center Research Director Dr Helen Petousis -Harris says that people with the W strain are more likely to die as it is "super virulent."
Hammers internal memo said that the disease tended to "spread rapidly even though areas where younger people gather, such as schools, hostels, army barracks and university camps. "
Northland Teen Dion Hodder was one of the three people who had died of meningococcal disease this year.
On October 16, the 16-year-old was at a St John Youth training camp on Motutapu Island when he became ill with the disease Hodder moved to Aucklan d City Hospital where he died just before midnight.
His mom Todd Horton and stepfather Lance Horton said that Dion had died from the W-tribe.
Dion's mother said it was hard to know how to feel about the internal note.
"It does not really matter to us right now," says Horton.
"Meningokock is one of these diseases it has been around for a long time and everyone knows the signs and symptoms but I think that we must only become aware that with these newer strains some of these signs and symptoms are not as visible and not as prominent. "
" I would hate thinking of other parents who go through what we're going through right now. "