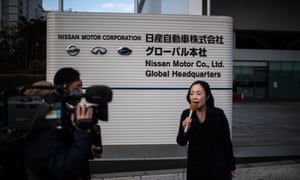 Journalists in front of the headquarters of Nissan Motor Corporation in Yokohama today Photo: Martin Bureau / AFP / Getty Images
Good morning and welcome to our rolling coverage of the world economy, financial markets, the euro area and the business community.
Japanese car manufacturer Nissan is shaking today after Carlos Ghosn's chairman was imprisoned dramatically by prosecutors for alleged underreporting his salary and abusing the company's assets.
Shares in Nissan have plunged into big trading in Tokyo and ended by almost 5.5%, as the Japanese capital was seized by Ghost's dramatic fall from grace. This drove Nikkei down to a three-week low.
Staff at Nissan's headquarters in Yokohama are also in shock after hearing that their board is planning to reject Ghosn on Thursday for "serious irregularities."
At a gripping press conference late on Monday night, Nissan's CEO Hiroto Saikawa held in Ghosn and said:
"I feel a strong sense of anger and despair."
Surprisingly Saikawa said he had not decided whether Ghosn was "a charismatic figure or a tyrant" and adds critically:
"I must say that this is a dark side of the Ghosn era that lasted for a long time . "
Earlier today, Japanese prosecutors confirmed that they were investigating whether Ghosn and Representative Director Greg Kelly collaborated to emphasize Ghana's compensation for five years from the 2010 financial year – as Nissan claims.
The couple are accused of reporting only half of Ghosn True Wages, with nearly 10 billion yen (£ 69m) during the period.
It's a shocking development that threatens the whole future of the Nissan-Renault-Mitsubishi Alliance, created and led by Ghosn for many years. Renault's shares fell to a three-year low on Monday and may be under further pressure today.
But the dramatic event has also left some observers wondering if Ghosn is being shot out of the door (and in the hands of the authorities) in a palace style coup.
Also coming up today
MPs will quizzing top officials from the Bank of England about the state in Britain's economy this morning. Governor Mark Carney can also expect fresh questions about the Brexit negotiations, as Theresa May strives to get his draft agreement past parliamentarians.
Michael Hewson or CMC Markets ] Suspect Carney would rather not be investigated about Brexit issues at such a sensitive time.
In such a politically sensitive moment, the Bank of England Governor Mark Carney probably curses the fact that he not only needs to answer questions on the central bank's prospects for the British economy to the Treasury Select Committee later this morning but he will probably also find himself tossed in the cross hair of the current benefits of the agreement that the Prime Minister has made with the EU against the risks of leaving without an agreement.

His answer will inevitably invite invitations from both sides of the political divide.
Agenda
10.00 GMT: Hearing of the Finance Committee with the Bank of England
11.00 GMT: CBI Survey of British Factory Production