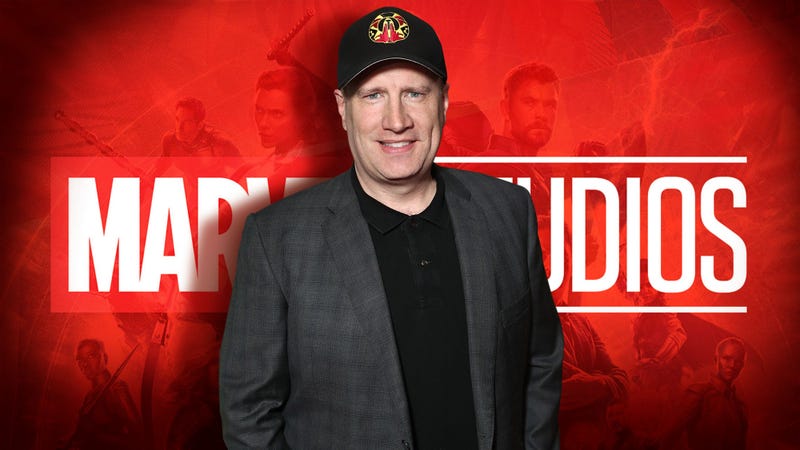 Photo: Todd Williamson / Getty Images, Graphic: Jimmy Hasse
When Kevin Feige started at Marvel 19 years ago, it was as a whip-smart junior producer making his mark on the set of X-Men by impressing his coworkers with the depth of his comics knowledge. Now he has the head of Marvel Studios, where he has taken viewers through the first three phases of the Marvel Cinematic Universe over the course of 21 incredibly beloved and profitable films. Ahead or Avengers: Endgame which brings the third phase — and potentially some of Marvel's most beloved superheroes — to an end, [TheAVClub sat down with Feige to talk about how The Avengers have grown from second-tier superheroes to deep and diverse icons.
The A.V. Club: Is this where you thought when you started Marvel Studios – as you did it would be this big?

Kevin Feige: I was just excited to be a part of the movies. I was just excited to be in the room where it happens, if Lin-Manuel Miranda would say. I still feel that way. The creative process is always about dreaming about what could be, dreaming about "You know, one day we could do this." I remember being on the set of the first X-Men movie when the greatest show of power that Magneto could do was that he would lift his hands and have police cars lift into the air. We had actual police cars with cranes pulling them up, and then you erase the wire in post. I don't know if this is a random story, but you remember that scene, right? Anyway, I think the police are there and he takes one of the guns, turns it around, and points it to the police officer's head.
I had a comic image from around that time, or maybe a few years before where Magneto had taken a gun and split it into all of its component parts. I kept walking around with that picture going, "Look at this. That's what we should do. Wouldn't be cool? "And people were like," We ​​don't have the budget for that. We can put a shotgun on wires and have it around and point at his head. "I remember thinking," Man, in the comics they go to space and they do lots of other stuff. Wouldn't it be amazing one day to really showcase what these characters can do? "Not just the X-Men, but all these characters can do and really deeply explore how deep the Marvel Universe is.
It's not just a kid who puts on a costume in a street or a group of mutants in a mansion in upstate New York. It's a literal universe, and there are so many different areas to explore. So I would always dream of those kinds of things. Just on Iron Man one, having Nick Fury come in, that was me saying, "Let's see if we can get people excited by this being a bigger universe, but [Iron Man] just doesn't know it yet. "It's all because of Robert Downey Jr. and Jon Favreau and the audience that came out for Iron Man one that we could solidify our plan and start moving ahead towards Avengers.
AVC: Now you can split the gun into its component parts. How much of that is due to technological advances, and how much of that is because you're given more of a given that you're producing some of the biggest movies on the planet?
KF: It's all of the above. X-Men one was a unique example, because it was from so long ago when we were working with a very limited budget. So that was a big part of it. The other big part of it was just because I thought something was cool it didn't mean anyone was going to do it.
I think they had the technology then to do it, but it would be much more difficult. It might have looked as good.
AVC: You need time to pass so that you could make the effects – from the splitting to the Avengers in space – look the way they really should.
KF: Have they done it now? Has Magneto done that in an X-Men movie? Probably.
AVC: Also, The Way You Woven The Universe Together, No single person has to carry nine movies. They are not doing nine months or a year of work on every single movie.
KF: It's exciting that nine movies or many movies in for Sam, that's probably the biggest part Nick Fury had in any of the movies, right? It was Captain Marvel, I think. And how about having eight or nine or whatever movies in it.
AVC: Last question. You have a daughter
KF: Yes. She's 10 years old.
AVC: Has she dressed up as an Avenger?
KF: She likes to make her own costumes and lots of them involve versions of cats. She is a cat witch a couple of years ago. I have a memory from not too long ago of wearing a Black Panther mask and running around. It only now comes to me that maybe she thought it was a cat. That was probably around Civil War and I remember thinking, "That will be one of many signs that is a success if you have people of all types and all colors dressing up as that character." wish fulfillment, yes, a people that look like you, which is an important thing for people to have, but also identifying and tapping into the wish fulfillment of people that do not look like you. Ryan Coogler says that when he was growing up, he did all the time with white heroes, but now people get the opportunity to do that with all different types.