2018 has not always been known as the most uplifting year, but there are some bright spots. Among them is the recently released annual GLAAD report "Where We Are on TV". This year, GLAAD's report shows that television casting more queer characters than ever before. According to the latest report, the season 2018-2019 will contain a record high percentage of LGBTQ characters on broadcast television. And for the first time ever in GLAAD's 23-year history to complete this study, LGBTQ color characters surpassed white. It's a rare sign of progress, a bright spot in a report that can often be a depressing look at Hollywood's lack of diversity. But there is still a lot of work to do about LGBTQ inclusion on TV, and GLAAD shows Hollywood how they can do better.
According to GLAAD's 201
8 "Where We Are On TV" report of the 857 Series, there are common signs of primetime script programming on the five broadcasting networks – CBS, NBC, FOX, ABC and CW – in the forthcoming television year 75 LGBTQ. With 8.8 percent, this is the highest proportion of LGBTQ characters that the "Where We Are On TV" report has ever seen.
According to the report, CW had the highest proportion of the LGBTQ series by 16 percent. The Network Series Supergirl will make history by presenting TV's first transgender superhero, Nicole Maines as Nia Nal.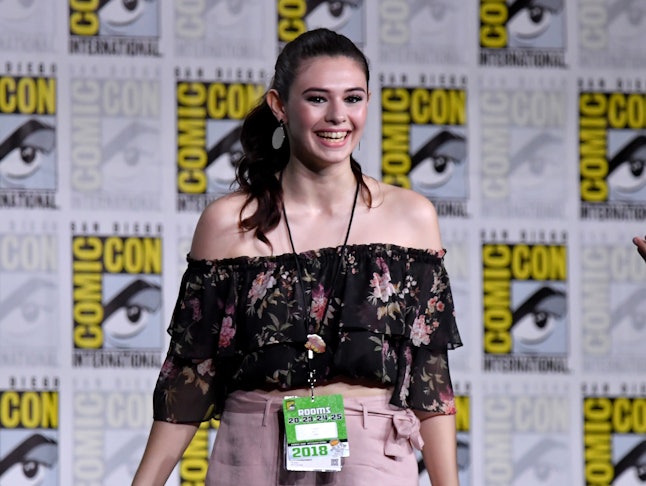 Mike Coppola / Getty Images Entertainment / Getty Images
GLAAD reported that there were a further 38 recurring LGBTQ characters for scripted primetime broadcast programming, which is above last 28's recurring LGBTQ characters. Also worth noting, there are as many LGBTQ male and female characters on broadcast tv. An improvement over last year, where LGBTQ male characters outperform female 55 percent to 44.
The "Where We Are On TV" report from 2018 also shows that the number of bisexual + characters (117) over broadcast, cable and streaming, from last year's 93), transgender characters (26, up from 17) and signs of HIV and AIDS (7, up from 2) are also up this year. FX even made history with Pose, which has the largest number of transgender series regulars on a written American series. Most are transcaires of color.
Perhaps one of the most exciting results this year's study is that for the first time, LGBTQ color subjects represented 50 percent of all LGBTQ characters on broadcast television. Black representation went up to 22 perfectly from last year's 18 percent, while Latinx representation was held at 8 percent. Asia and Pacific Island (API) representation also saw a slight increase of one percent this year, reaching 8 percent.
Of the 28 LGBTQ regular and recurring characters listed as "Multiracial or Other Race" across all platforms, GLAAD found that 19 is multiracial, while eight are Middle East and one is First Nations.
Giphy
While progress was made this year, GLAAD welcomes the efforts for the TV season 2019-2020. They do not just want to see more LGBTQ characters, they want to see more nuanced depictions of these characters to better reflect the community itself. GLAAD found, for example, that only 2.1 percent or 18 LGBTQ characters were persons with disabilities, well below the national average of 13.3 percent reported in the U.S. Community Examination of 2017 conducted by the US Census.
"GLAAD urges industry to ensure that within the next two years, 10 percent of the series of common characters on primetime script-switched series is LGBTQ," wrote Sarah Kate Ellis, GLAAD CEO and CEO. "This is an important next step to make sure our entertainment reflects the world in which it is created. "
What the year's report shows is that while the numbers improve, television is still far from representing the real world, but GLAAD will be there to make sure that Hollywood is coming there. Preferably rather than later.