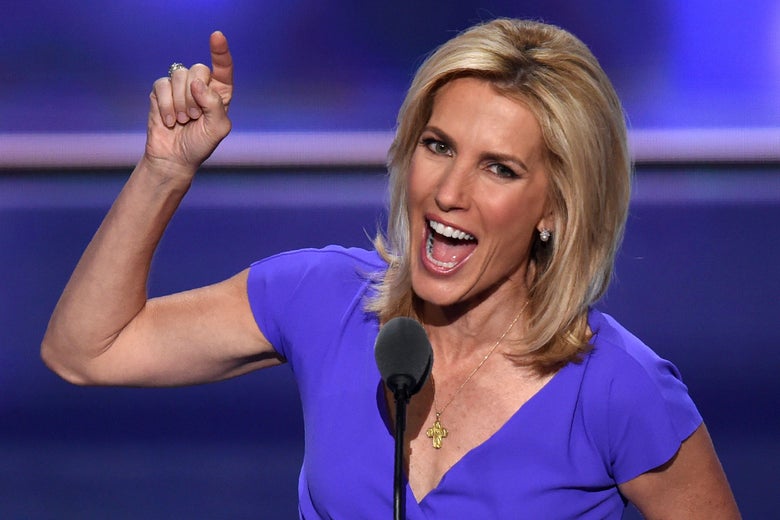 Laura Ingraham.
Timothy A. Clary / Getty Images
Hundreds of students and community members gathered Monday at the University of North Carolina to express their scandal when they learned that the university planned to build a $ 5 million building on campus to keep Silent Sam, a statue of a confederate soldier at school Chapel Hill campus pulled down by protesters in August.
University Chancellor Carol Folt, who previously expressed a wish to see the statue removed, declared that the facility was intended to "contextualize" the statue and follow a law for 2015 North Carolina that prevents the statue from being completely removed. Protesters criticized the University's efforts to protect a statue that they see as a vital superiority, and other critics have accused the university of abandoning their responsibility to their black students to bow to conservative donors.
Not to let student leadership activism go unshielded, Fox News host Laura Ingraham took the demonstrators to task on her show Tuesday. "Look, every country, the whole story, has its bad side and it has its good sides," she said. "Good stuff, bad things. But this is reminiscent of those destructive thoughts, we say, ISIS."
According to Ingraham, these protesters are "enemies of history", more akin to a terror-based group that governs violence and is known for ethnic cleansing and war crimes other than for civil rights protesters. "Think of ISIS, what they did," she said. "They plagued and they wiped away irreplaceable, historical and religious monuments. From Palmyra, remember in Syria, simply because they could. It was insulting to them."
While demonstrators would argue that, unlike ISIS, as part of its campaign for power in the region, it addresses worship and historical artifacts in order to assert its cultural dominance, protesting against the continued reverence of statues that were often built decades after the civil war, under Jim Crow and civic rights, in order to strengthen white supremacy and transform confederacy's image as part of the "Darkness" lost cause, Ingraham sees both groups just trying to erase the story.
She is not the first to claim. Corey Stewart, the right-wing right-wing candidate who lost to Tim Kaine in the Virginia Senate Competition in November claimed in 2017 that anyone who would destroy "artifacts of history" was " just like ISIS ." Ingraham and Stewart would comfort in knowing that six other states have laws such as North Carolina-like, with Alabama, passed its law after Charleston, South Carolina, the church as a shot in response to the nationwide backlash against symbols of white superiority – prohibits the removal of monuments.