İstanbul Başakşehir is a Turkish football team based in the Başakşehir district of Istanbul, Turkey. The club was founded in 1990 on the initiative of Nurettin Sözen, the mayor of Istanbul, who decided to merge three municipally owned sides into a single organization. The club entered in the Turkish fourth division in its first season.
They stayed in the Superlig for 6 seasons to then relegate to the to the second division. But Başakşehir finished as champions in the 'TFF First League' and made an immediate return to the top level in the 2013–14 season. The club is now in its 5th consecutive season in the Superlig and is currently leading the league and potentially may become the champions of Turkey for the first time ever.
The club is one of five Süper Lig teams based in Istanbul, along with Galatasaray, Fenerbahçe, Beşiktaş and Kasımpaşa. But where did this club come from all of a sudden and how come they are now topping the Superlig? We went looking for answers and found couple reasons for the club's rapid rise and concluded this club from Istanbul is a Turkish topper in the making.
One of the biggest reasons for its fast rise to the top, analysts claim, are the links the club has with Erdogan's ruling party. The president of the club Gümüşdağ and club captain Bëlozoğlu are both AKP members, with the President married to a niece of Erdoğan's wife.
The president of Turkey even played in a charity game in which he scored an improbable 3 goals in just 15 minutes. Impressive!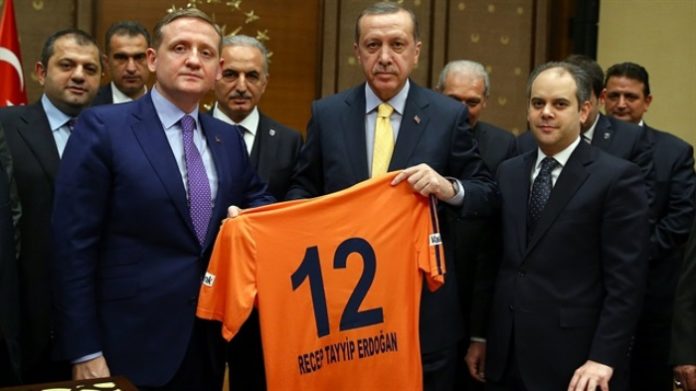 Early 2019, Erdoğan said the following about his involvement in the club: "Başakşehir is really thriving. I am proud of it because it is a team I started. We had built it during my term as mayor [of İstanbul], and they have made great progress to get where they are now." The Turkish president has been an admitted fan of the team and after his 15 minutes of fame as a player in the new stadium's opening match, the club retired the number 12 shirt in his honor.
But how far do these political connections go? Nobody knows exactly how they are financed because their books aren't open to the public, but it is clear they do receive a lot of sponsorship money from companies involved in government contracts. Critical analysts claim that the club has only done well thanks to these political supports. It is no secret that rich clubs are more likely to win trophies.
So, is Başakşehir a future top club in Turkey and maybe even in Europe in the making? Potentially, yes. There is one problem: the club doesn't have a lot of fans attending the games in the stadium, with an average attendance of around a few thousand fans. Though, there is no lack of money to attract established star players (often close to retirement) to join their team. At a time when many of Turkey's leading clubs are getting rid of expensive foreign signings as they struggle to cope with huge debts, Istanbul Başakşehir have players like Robinho, former Chelsea forward Demba Ba and ex-Arsenal player Emmanuel Adebayor in their team.
But this doesn't need to stop them from being successful. There is another top team in Europe who has a lot of money but doesn't have a lot of fans: Monaco. Similar to Başakşehir, the city-state football team as around a few thousand fans on average. And the team has been successful, winning the Ligue 1 in 2017/18 and won the Champions League in 2003/04. We have no doubt that Başakşehir would be more than satisfied if they could follow a course similar to Monaco. Starting with their first championship title in the Turkish Süper Lig this season? The future will tell!