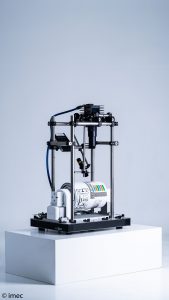 The TDI display has a quantum efficiency of more than 70% near the UV range, making it an appropriate tool for industrial machine vision, especially inspection in semiconductor manufacturing processes.
The specialist widens imecs CCD- in CMOS-based TDI imager portfolio, which is offered through various business models – from fully customized design to evaluation cameras.
The new device was manufactured using imecs TDI CCD-in-CMOS technology, which combines CCD TDI pixels and CMOS reading in one technique.
This combination enables the best of both worlds to be realized on a single monitor: low noise, high-sensitivity TDI performance and low-power on-chip integration of fast and complex reading circuits.
UV sensitivity is achieved by applying imecs backlight illumination technology in combination with a dedicated anti-glare coating.
Backlight illuminates light directly from the backside display, significantly enhancing the image sensor's quantum efficiency.
Adding a UV specific antireflection coating achieves a high peak quantitative efficiency of more than 70% in the (near) UV region of 250-400 nm.
Being sensitive to wavelengths less than visible allows the slider to detect very small features &#821
1; making the technology particularly attractive to semiconductor inspection applications, such as worm, wafer and particle inspection.
The TDI sensors are manufactured on 200mm wafers using imecs CCD process module in its 130nm CMOS process flow.
This cost-effective manufacturing flow is compatible with other wafer finishing methods, such as spectral filter integration for enhanced TDI performance.
The resulting image sensors have high sensitivity and speed (up to 300 kHz line price) and have low power consumption.
"We can now offer TDI CCD-in-CMOS image sensors with high quantitative effects in both UV and visible areas, enabling a variety of advanced applications, including remote sensing, medical imaging and industrial machine vision," says Imec's Maarten Rosmeulen.