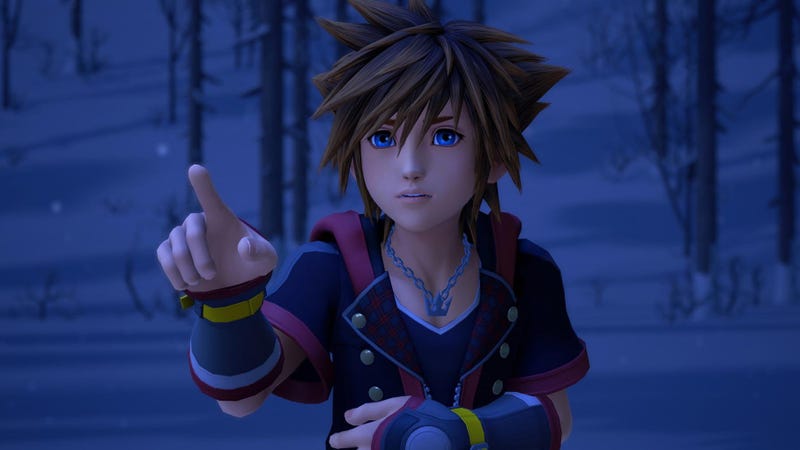 Oh, do you think an ice level is bad? Image: All Images Square Enix
Kingdom Hearts is one of my great geeky love. Of course, waiting for Kingdom Hearts 3 was painful. I knew I was coming back to the series after a decade would be difficult, it could never measure up to the nostalgic hype that had built up in my heart. I didn't expect it to make me angry.
Before I enter the moment that destroyed Kingdom Hearts 3 – and possibly the franchise for me, I want to understand how painful this is. Kingdom Hearts was bad Harry Potter . Many children had Harry, Ron and Hermoine; I had Sora, Riku and Kairi. It was the franchise that helped me embrace my love for games, high concept fantasy and pretty much everything nerdy. I don't think I would have this job unless it was for Kingdom Hearts . I mean it.
Kingdom Hearts was never perfect. It's a stupid, stupid thing. But that was my stupid thing. I cared about these characters, their stupid key swords and their giant shoes. Their struggles may have been weird, and sometimes their stories had no meaning (why were these people in animal masks?) But that didn't stop me from loving those characters and wishing they would be happy. When Sora and Riku returned to the Destiny Islands at the end of Kingdom Hearts 2 and Kairi reached out to tell Sora "you are home", I will not lie, I cried.
I knew that Sora's battles had not stopped just because he and Riku were at home. Otherwise, what would be Kingdom Hearts 3 ? But I knew they were no longer alone. They had each other, and Kairi, who had embraced his fate as a key blade warrior. Even Axel was there! I also thought that Sora would not sail into his happy ending, sit on the beach and share a paopu fruit with Kairi-at least not easy. Saving the worlds and the people he cares for will take a lot of sacrifices …
[Warning:IgnoranceInterviewpoilersclose
Kingdom Hearts 3
. ]
I just didn't think the victim would have the shape of one of the sexiest troops in the book.
A majority of the last battle in the game is spent at the Keyblade Cemetery, which Sora and his Friends encounter Xehanort and his army of Heartless, Nobodies, and Organization XIII members. Sora does his thing, defeats enemies with the power of love and Toy Box sword, as Xehanort cackles in the background how it all belongs to his master plan. Which, to be fair, is. Every major character Sora collides with gets Xehanort closer to his x-leaf, Kingdom Hearts, and reigniting Keyblade War. There is only one keyblade missing.
As Sora stands at the base of the cliff, ready to fight Xehanort for the future of all worlds, this happens.
That's right: Xehanort refrigerator Kairi, to make Sora angry enough to fight him. Words can't explain how furious this moment made me, but I'm sure the fan will try. I was livid .
Now, I have to advocate this by saying "Death" in Kingdom Hearts is a little weird characters tend to die and come back to life a lot. And in this story it is implied that Sora will try to bring back Kairi but it can still be one of the worst examples of peace or torture or killing a female character to further develop a man's journey – because Gail Simone came back with the term back 1999. Although there is a magic "undo" button, I will never forget this story of choice.
Kairi's death did nothing and served no one but to prove that the female characters are again Kingdom Hearts will always be secondary (not even begin to describe how the latest game is treated Aqua). The series was sincere in killing the franchise's main female character, just to motivate the male character to collide the leaves with Xehanort and create the x-leaf. They didn't even try to get away from it, it's right there on the screen: "You need motivation."
On the surface it is not only regressive, it is unnecessary. Granted, Sora was reluctant to duel leaves with Xenahort because of what it would bring, but Xehanort could attract him in every way. Better your friends, steal Winnie Pooh's book, make a shitty souffle that Sora would feel obliged to fix. But I would be asked if I did not notice how nothing showed that Sora gave up the fight . The whole trip had led to that moment. It was the only thing he could do to save the worlds from destruction. Plus, Sora would do something for her friends and loved ones, risking everything. As far as we know, Kairi did not kill anything for Kingdom Hearts than to take her out of history.
But even though Kairi had killed only the way to motivate Sora to fight Xehanort, it wouldn't do it okay. It is still insulting when you look at how much of the series Kingdom Hearts at least in the latter half, was spent and showed us how Kairi was more than a Princess of Heart. She started as the pond in need, but the series kept promising things would be different in the latest installment. Kairi showed how she was resourceful, smart and brave. She took Sora back from Final World and showed that she could finally be the one who saved him. She became a divine Keyblade Wielder, who spent most of the Kingdom Hearts 3 training to become a master just to face some heartless (mostly offscreen), kidnapped, and then murdered. Everything so Sora could do that he probably would do anyway. And now he must also save her.
Kingdom Hearts was a beloved part of my life, but now I am left with a sense of emptiness. I finished the game and I don't really care. It didn't matter that Sora apparently brings Kairi back with the Power of Waking, just to find himself in a strange new country that suggested future games or DLC. Her victim was worthless. I was angry and can always be angry that my hermoin – after all, she (and I) had been breakthrough as, yes, another Disney princess.
---
For more, make sure you follow us on our new Instagram @ io9dotcom.