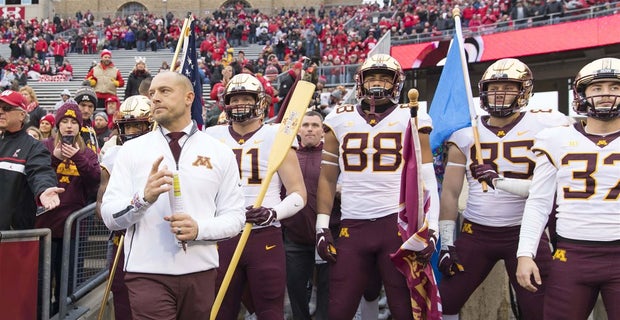 (Photo: USA TODAY Sports)
It happened. It finally happened.
Minnesota has reclaimed Paul Bunyan's Ax for the first time since 2003, and the first time in Madison since 1
994 as a complete team performance, the Gophers become bowl-eligible and win the Ax.
For many years, the Gophers have lost to the Badgers because of the dominant play from Wisconsin on both sides of the line.
That changed in 2018.
Minnesota's offensive line with three underclasss took it to Wisconsin's front seven all day. The Minnesota Moving Company was able to sustain drives against this Badger front, plus this offense was able to clock on drive after drive.
200+ rushing yards and three rushing scores, to go along with zero sacks on the day is a huge credit to Brian Callahan and Clay Patterson's unit. They were opening lanes for Ibrahim, Williams and Seth Green on key third downs, allowing for sustaining scoring drives of nine, eight, nine, 10 and 15.
I can not tell you how many times over the eight years I've covered Minnesota where it's coming down to the offensive line for Wisconsin eventually working on the Gopher defense, and that being the deciding factor.
Well for Minnesota today, it was finally their turn.
Joe Rossi's front seven was huge in limiting this Wisconsin offensively all day. Jonathan Taylor really could not get going all day as he "only" gained 120 rushing yards and did not have a rushing score. Honestly, without context that does not seem ideal, but Taylor came into today's game averaging about 170 yards a game in Big Ten play, and not allowing him to break a big one, is a testament to all three levels of this Gopher defense standing tall. Especially when Blake Cashman was ejected from the game early on.
Adding back in OJ Smith and Royal Silver certainly played a part in stifling this Badger offense as this Badger offense could not do much all game, but it was the big plays when it was counted from guys like Gary Moore, Carter Coughlin and Esezi Otomewo.
Joe Rossi had the interim rag removed as Fleck said after the game he's the defensive coordinator going forward, and you look at the way he was able to turn around this defense is three weeks, and it's frankly tough to argue with the results .
Just hang your hat Gopher fans on the fact that this Minnesota team, outplayed Wisconsin all game long in Madison, and it started in the trenches. A lot to build on there moving forward.
I would also be remiss if I did not get Rob Wenger's special teams unit some love. Emmit Carpenter returns home to Wisconsin to convert three or four field goal trials, while Demetrius Douglas arguably has the momentum turning play of the day on his nice 69 yard point return touchdown.
Special teams alone accounted for 19 of Minnesota 37 points, their biggest point total of the season.