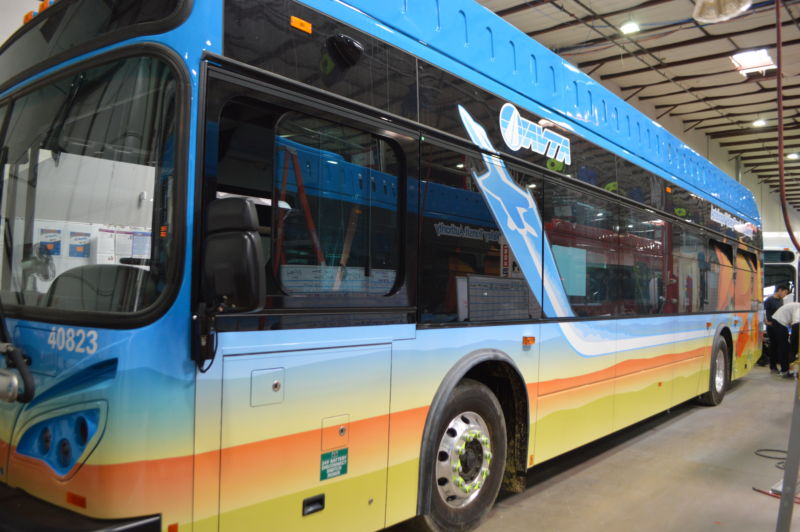 Megan Geuss
On Friday, the California Air Resources Board CARB) unanimously approved a regulation that would force the state's public transport agencies to build zero-emission fleets by 2040. According to San Francisco Chronicle the regulation would also prohibit transit agencies to invest in diesel or gas buses after 2029. Buses usually last about 1
2 years before they need to be replaced, Kronik noted.
In a press release on Friday, CARB noted that the transport sector contributes 40 percent of the state's greenhouse gas emissions and 80 to 90 percent of the state's smogged pollutants. "Full implementation of the regulation adopted today is expected to reduce greenhouse gas emissions by 19 million tonnes from 2020 to 2050 – equivalent to taking 4 million cars off the road," CARB writes.
Battery-electric and fuel cell buses are two potential ways of investment, listed CARB. The Air Resource Agency added that approximately 12,000 gas or diesel-powered buses are on California's roads today, but only 153 zero-emission buses are in operation today in California. Still based on orders made by transit agencies, 1 000 such buses are expected to be operational by 2020.
The regulation states that large public transport agencies must develop a factory to meet CARB targets and submit it to the board by 2020. Small public transport agencies have until 2030 to develop their plans. Plans must contain details about infrastructure development and labor education. Transit agencies also need to revisit their stretches: for battery buses, the necessity to regularly schedule a different plan in terms of travel structure and length than routes served by fossil fuel-driven vehicles. Transit agencies will have access to incentives and grant money to finance the transition, which will be provided by state tools, which will benefit from the additional industrial customers.
CARB said Friday that it expects transit agencies to "save $ 1.5 billion in maintenance, fuel and other costs by 2050 after the complete infrastructure development." Like electric cars, electric buses are generally more expensive in advance, but have a lower total cost of ownership than comparable fossil fuel combustion vehicles.
In September, California legislators approved a law requiring state tools to provide 100 percent zero emissions electricity by 2045. The law is one of the most ambitious in the US, given the size of California.