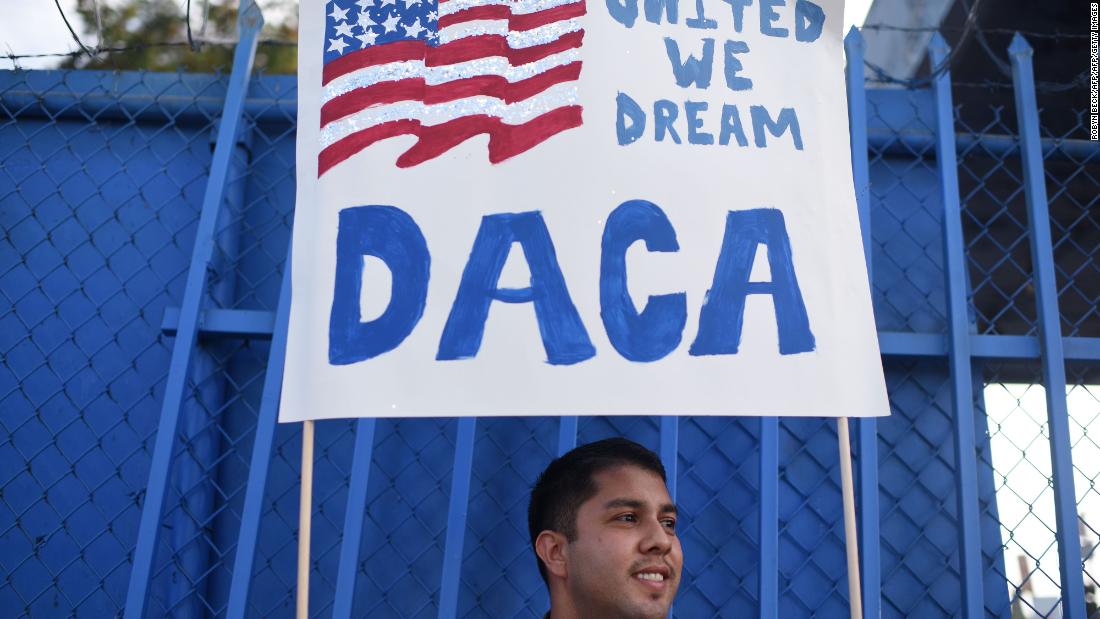 The ruling from a panel of the 9th US Circuit Court of Appeals means a national injunction allowing the deferred action for childhood arrivals program to continue will remain in effect.
Challengers are likely to succeed in their argument that the planned phase-out is illegal, the court ruled.
"We conclude that plaintiffs are likely to succeed on their claim that the rescission of DACA – at least as justified on this record – is arbitrary, capricious, or otherwise not in accordance with law," reads the opinion from Judge Kim McLane Wardlaw, an Appointee or President Bill Clinton.
In September 2017, the Trump administration announced plans to phase out DACA, but lower court judges blocked the administration from doing so and ordered that renewals of protections for recipients continue until the appeals are resolved.
The legality of the program is not a problem in this particular case. Instead, lower courts are examining how the administration made its decision to end DACA.
Thursday's case was brought to the University of California, as well as California and a few other states.
California Attorney General Xavier Becerra called the ruling a "tremendous victory" for "our young immigrant dreamers."
"This fight, of course, is far from over," he said in a statement. "We will continue to defend Dreamers and DACA all the way to the Supreme Court if necessary."
Trump administration asks Supreme Court to review
The Justice Department had already asked the Supreme Court to review The district court's injunction, arguing the Obama administration had allowed some "700,000 aliens to remain in the United States even though existing laws provided them no ability to do so."
The Trump Administration's Department of Homeland Security ended the policy "based on Trump gets another chance to celebrate Kavanaugh at court ceremony &#8221
; data-src-mini="//cdn.cnn.com/cnnnext/dam/assets/181108112826-01-kavanaugh-investiture-1108-small-169.jpg" data-src-xsmall="//cdn.cnn.com/cnnnext/dam/assets/181108112826-01-kavanaugh-investiture-1108-medium-plus-169.jpg" data-src-small="http://cdn.cnn.com/cnnnext/dam/assets/181108112826-01-kavanaugh-investiture-1108-large-169.jpg" data-src-medium="//cdn.cnn.com/cnnnext/dam/assets/181108112826-01-kavanaugh-investiture-1108-exlarge-169.jpg" data-src-large="//cdn.cnn.com/cnnnext/dam/assets/181108112826-01-kavanaugh-investiture-1108-super-169.jpg" data-src-full16x9="//cdn.cnn.com/cnnnext/dam/assets/181108112826-01-kavanaugh-investiture-1108-full-169.jpg" data-src-mini1x1="//cdn.cnn.com/cnnnext/dam/assets/181108112826-01-kavanaugh-investiture-1108-small-11.jpg" data-demand-load="not-loaded" data-eq-pts="mini: 0, xsmall: 221, small: 308, medium: 461, large: 781″ src="data:image/gif;base64,R0lGODlhEAAJAJEAAAAAAP///////wAAACH5BAEAAAIALAAAAAAQAAkAAAIKlI+py+0Po5yUFQA7″/>