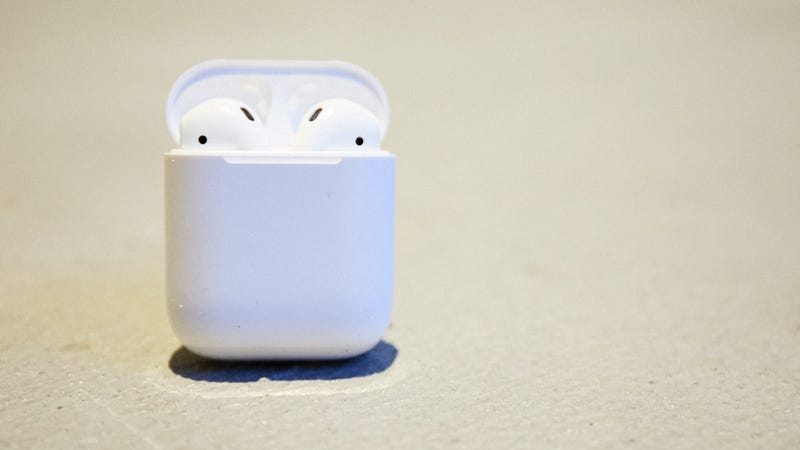 There is only one thing I want from new AirPods Photo: Alex Cranz (Gizmodo)
AirPods do not go anywhere, but there are many rumors that revolve around what form next generation Apple's wireless earplugs will take. Although it is not likely that we will see an update this year, a new patent for Apple proposes that replaceable AirPods with at least one biometric sensor can be on the table for future models.
The patents show a design that can be "symmetrical so that the earplug can be used interchangeably in either a left or right ear." The biometric sensors would then be used to tell which ear profile was in which ear automatically adjust the sound accordingly . There is also mention of using foam to provide "constant power irrespective of ear size" deviation from the entire plastic design of current AirPods. However, while the patent refers to health and fitness uses for biometric sensors, such as heart rate, VO2 (maximum oxygen intake during exercise) and core temperature, it seems that this archiving is mainly focused on using sensors to identify what ear AirPod is in.
Since all I want from new AirPods, it's really a guarantee that they will not fall out of my ear.
Of course, patents must be taken with salt grains. Although Apple obviously monitors AirPod's design for 2020, the technology described in this new patent can not actually make it any product that meets shelves. We have seen other AirPod rumors as patents for wireless case chargers, as well as the now vaporware AirPower charging mat. Other visions include sweat resistance and Hey Siri integration. There are also speculations over premium AirPods with noise reduction. (So ​​basically there are features already available on other wireless headphones.) At this time, it's quite certain the earliest we see an AirPod update is sometime 2019. In addition to wireless charging, it's likely that the update will have a bit better connection and battery life based on newly assigned Bluetooth certificates.
Replaceable AirPods, as the new patent suggests, would be nice. It's not a big grip, but eliminates the five seconds to find out which earplug that goes in there would probably save me at least ten minutes in a year. More importantly, the overall shape of the new knobs in the patent addresses one of the biggest problems people have with AirPods: Fit. In fact, all I want from new AirPods is a guarantee that they will not fall out of my ear.
This is the most pleased I've seen the word foam Illustration: USPTO
There is no point in adding biometric sensor (or health tracking) if these dang headphones will not stay where they are going. Other smart earplugs, like Jabra Elite Sport, require an extremely safe fit to measure anything. They generally come with a small arsenal of ear tips and tips to ensure optimal contact between the sensor and the earloin. And while AirPods are decent for everyday commutes, Apple's insistence on a versatile AirPods strategy means they're not high on the list of wireless ear plugs you should use for more effort than a quick walk. Plus adding healthcare is unnecessary when considering the increased fitness focus at Apple Watch-you know that you buy everything Apple sells.
So for God's love, if there is only one thing that AirPods remove from this patent, let it be the short mentioned foam efforts.
[9to5Mac]