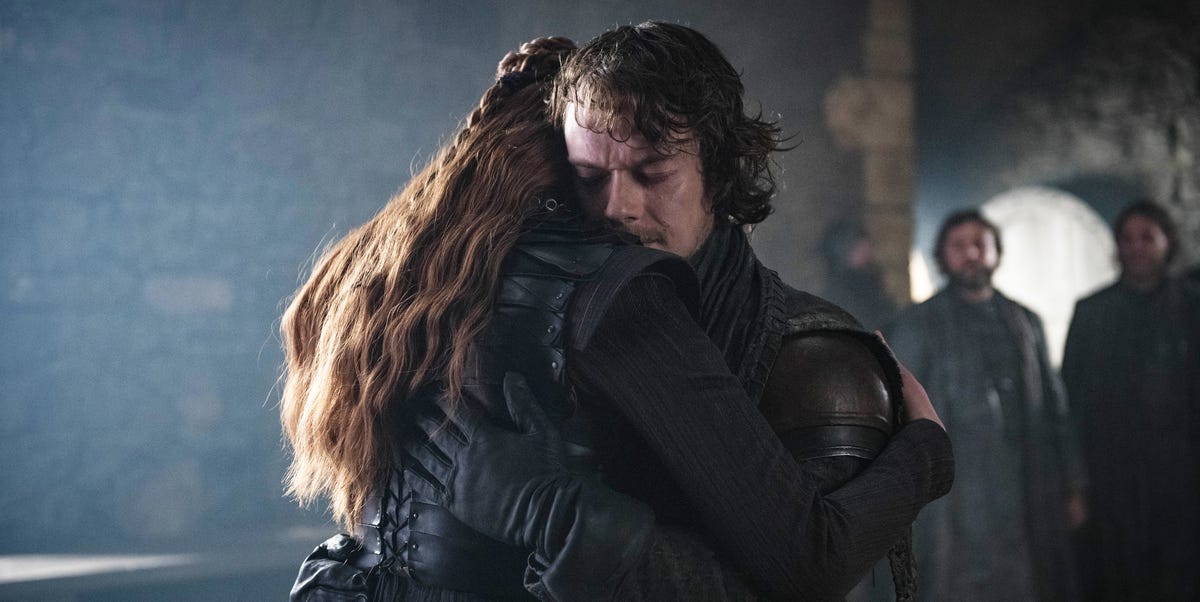 WARNING: This story contains spoilers for Game of Thrones Season 8, Episode 2.
---
Reunions Thrones did not stop with Season 8 premiere; This week's episode also gave us long-awaited moments between Jaime Lannister and Brienne of Tarth and Jon and Ghost, his direct wolf. However, a particularly emotional exchange took place between Theon Greyjoy and Sansa Stark when he arrived at Winterfell to join the fight against the white hikers. After presenting himself to Daenery's, Sansa rushes to give him a hug, her eyes burning with tears.
---
Later in the section, the couple also exchanged decreasing appearance while sharing a meal before the big battle at Winterfell.
---
Some viewers wondered: Are these two in love? Sansa and Theon have history. They grew up together in Winterfell because her father, Ned Stark, took Theon as a department (or hostage) after his father suffered a failed rebellion against the iron throne. But there are some gray areas. Theon tried to prove himself to his father by plotting Winterfell and pretending to burn Bran and Rickon Stark alive. Then Theon wins shortly when Ramsay Bolton takes over Stark's home, takes him as a prisoner and tortures him hard.
The last time Sansa and Theon were together was at the beginning of season 6 after he helps her escape from Ramsey in Winterfell. In the end, they are saved by Brienne and Pod, and the latter duo takes Sansa up to Castle Black to reunite with Jon while Theon returns home to the Iron Islands and his sister Yara.